Cabinet painting in Kansas City is an excellent way to update your home's kitchen or bathroom, without the expense of entirely new cabinets. An updated paint color can also lighten and brighten a space or add some rich elegance to your home. Before you head down to the hardware store to stock up on paints and brushes and start tearing apart those cabinets, check out these 7 tips from the pros for expert cabinet painting in Kansas City.
1. Choose Materials Meant for Kansas City Cabinet Painting
Wall paint doesn't offer the same durability as paints designed for cabinets and other high-traffic surfaces. If you were to use wall paint on cabinets, it would probably chip off and wear away before too long, especially around areas that get lots of contact.
Along with paint, it's vital you choose brushes and rollers meant for flat wood surfaces. Thick rollers can apply too much paint while brushes meant for smooth surfaces might not apply enough paint for a smooth, even coverage! Invest in self-leveling cabinet paint and high-quality brushes for a beautiful finish you'll love.
2. Remove the Hardware Before Cabinet Painting
It's probably tempting to leave on doorknobs, drawer pulls, and hinges and try to just paint around these features, but this can mean an uneven paint job and damaged hardware! Removing all hardware also allows you to sand down the doors and cabinet facings properly, ensuring a proper paint application.
3. Invest in a Handheld Sander
Speaking of sanding your cabinets before painting, invest in a handheld electric sander if you don't already own one! Trying to sand all those doors and cabinet faces by hand is often more difficult and exhausting than homeowners realize. A handheld sander also allows for more even sanding, which will ensure a picture-perfect finish.
4. Choose an Oil-Based Primer for Kansas City Cabinet Painting
Since oil and water don't mix, an oil-based primer is more effective at repelling all the steam and humidity that is so common in kitchens! Opt for an oil-based primer for your cabinets and your color will last longer and fade less over the years.
5. Paint the Backs of Cabinets Doors and Cabinet Facing First
Cabinet doors and facing, meaning the front part of the cabinet boxes, bang against each other repeatedly, so these surfaces take the most beating. Painting these first allows ample time for them to dry before you reassemble your kitchen, so the paint is less likely to fade or chip over time.
Also, if you paint the backs of cabinet doors first, you won't need to flip over the doors after painting their fronts. This reduces the risk of scratching that paint, so your cabinet door fronts will look their best once they're reattached to the cabinet facing.
6. Choose Paint Colors Carefully
While white is a timeless color that can make a kitchen look bright and clean, white cabinets next to white appliances and flooring can seem overly sterile and downright boring! On the other hand, too many dark colors can make a space seem muddy and cave-like, especially if there isn't enough natural light in the room.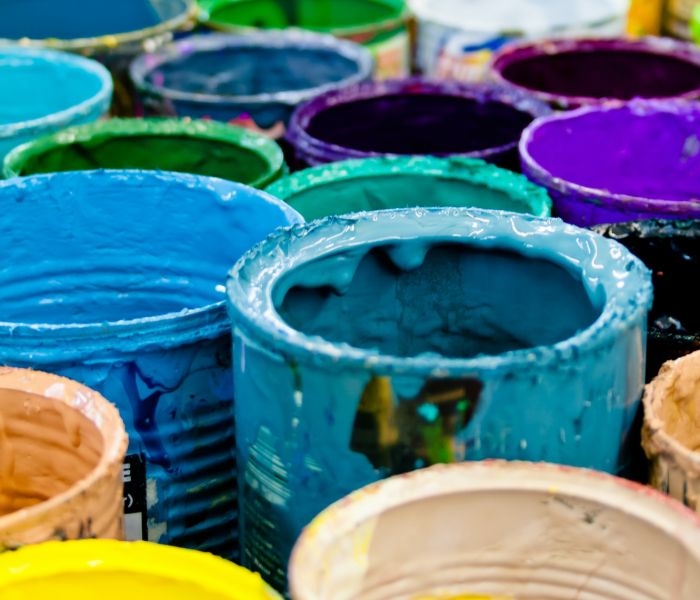 Choose paint colors that complement your appliances and flooring rather than matching them exactly, and that will brighten a small and dim space or bring warmth into an otherwise stark environment. Stick to neutral white, eggshell, tan, or walnut, and you'll no doubt enjoy those colors for many years to come.
7. Clean the Hardware, or Invest in New Pieces
Dirty or outdated hardware can detract from your new paint job, so that your cabinets don't look as updated and stylish as you expected! If your cabinet knobs, pulls, and hinges are in good condition and offer a style you appreciate, give them a good scrubbing before reattaching them. Products like Bar Keeper's Friend, Krud Kutter, or others meant for cabinet hardware make quick work of removing thick oil, grease, and other unsightly grime.
If the hardware is outdated, it's time to invest in new pieces. Oversized knobs and pulls as well as decorative hinges offer a metallic look that can tone down lots of wood surfaces, while minimalist pieces might be needed to let your cabinet style shine!
Bonus Tip: Hire a Pro When Needed!
While painting cabinets yourself is obviously less expensive than hiring a pro, keep in mind that professional painting is an investment in your home's appearance. Professional painters ensure a quality, thorough cabinet paint job, with the best tools and materials for the job. When you hire a pro, you can rest assured that your new paint won't wash away or fade every time you clean those cabinets, and the final color will be rich and true and just as expected!
Here at The Kansas City House Painters, we know the challenges of cabinet painting in Kansas City, and take pride in offering a high-quality finish for your kitchen, bathroom, or other home cabinetry. To ensure your cabinet color lasts for years, turn to our experienced Kansas City painting contractors. We guarantee our work, so call today for your FREE quote and no-hassle, no-obligation appointment.