Are you a homeowner asking what color to paint a house with a red roof? If so, you're in luck! You have lots of options for outside walls and trims that work well with red roofs. Also, a few simple painting tips can ensure you love the results for years to come.
Colors to paint a house with a red roof include:
Stark white
Yellow
Beige
Brown
Gray
Blue
Taupe
Cream
Before you head to the paint store or call a residential painting contractor near you, keep reading. It's best to review these choices in more detail before making a final decision. Additionally, you might review some tips on choosing the best paint finish, for maximum appeal.
What Color to Paint a House With a Red Roof, in Detail
Check out some added pros and cons of each of these paint colors for homes with red roofs. Lastly, remember to talk to your painting contractor or a decorator for more tips! They can often advise on what others have chosen and if they were happy with their decision.
Stark white
White is an excellent paint color for virtually any home and roof color. White offers a neutral tone that helps the roof and trim colors to "pop." Also, white walls are an excellent backdrop for colorful landscaping features. Your stunning flowers will really stand out when you choose white exterior paint.
On the downside, white paint often shows dirt and stains more readily than other colors. This includes grass stains from clippings and "muck" from rain and snow. In turn, you might prepare to power wash the house more often if you choose white. Moreover, consider investing in a bagged mower and use caution when operating a snowblower.
Yellow
As primary colors, yellow and red together make a very bold statement. Yellow is also sunny and welcoming, letting your house stand out from the crowd! As with white, yellow walls also provide a neutral backdrop for landscaping. If you think your hedges and other features seem a bit dull, yellow walls can bring them back to life.
On the other hand, yellow can also show dirt more readily than darker colors. It might also seem a bit too bright for some homeowners. Above all, ensure there are no HOA guidelines or other regulations against this unique wall color.
Beige
If white or yellow seem too stark and bold, consider beige walls with your red roof. Beige is neutral and works well with a variety of architectural styles. Exterior beige walls also hide a bit more dust and dirt than white while still offering a neutral appearance.
However, some homeowners might find beige walls too bland and dull. Also, the color might not do a lot to make trim colors pop. Choosing beige when all the other homes on the block are also beige can add to its tedious appearance!
With that in mind, be prepared to add some strong trim color and landscaping features if you do choose beige. These simple touches ensure your home doesn't blend into the background and look too dull and boring.
Brown
Brow exterior walls are an excellent choice if you prefer dark, traditional styles. Also, brown can make an overly large home look less overwhelming. Exterior brown walls also help offset white trim and can add some life to an otherwise boring yard.
Additionally, brown helps hide dirt, mud, dust, and other debris. If you tend to avoid washing your home's exterior walls when needed, choose brown! You won't notice the dirt as easily and your home won't look as rundown between power washing services.
Gray
A gray home exterior is an excellent, neutral choice that works well with red roofs. Also, homeowners might not realize how many shades of gray they have from which to choose! Charcoal gray offers a warm, traditional look that allows white trim to really stand out.
Additionally, lighter gray shades offer a neutral look that works well for just about any home style. Your home also won't stand out and draw the attention of neighbors when you choose gray. In turn, it's usually a favorite for homes with HOA regulations or that discourage bold colors.
Blue
You might not think that blue and red go well together, but light blue houses look stunning with a red roof. Blue enhances red tones and offers some personality that white or beige homes might lack. A blue house is also an excellent choice for adding personality to a lackluster yard.
Taupe
If you're not familiar, taupe sits somewhere between beige and gray. It's a very neutral shade that works well with just about any roof color, including red. Taupe also creates a simple look for your home, giving it just a slight bit of color without becoming overwhelming.
Cream
Cream or off-white provides an excellent backdrop for red roofs while allowing your landscaping features to stand out. Also, cream is a great choice when white feels too stark but other colors too bold! Many cream shades also help hide dirt and dust better than white or lighter tones.
However, when choosing a creamy shade, be careful of its undertones. This refers to other colors the paint might resemble once applied. For instance, some cream shades have a tinge of yellow while others come out looking a bit brown! Always try paint chips or samples before deciding on a cream shade for your house.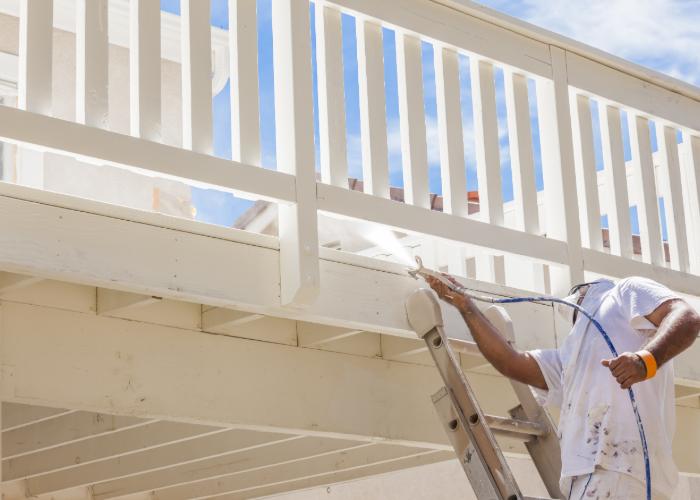 Should a House Color Be Lighter Than the Roof Color?
It is generally recommended that the house color be lighter than the roof color. One, a lighter house color will reflect more sunlight and heat, keeping the house cooler in the summer. Two, this helps a stunning roof color stand out and command attention!
On the other hand, some homeowners might want a darker home color. For example, if you live in a cold climate, choose a darker house color to help keep the house warmer. Additionally, if you have a large, open backyard, choose a lighter roof color to help reflect sunlight and heat away from the house.
Also, some property owners might prefer a contrasting color scheme, where the house and roof colors differ significantly. This creates an interesting appearance. For instance, if you have a very dark roof, a lighter house color provides a striking contrast. This enhances the architectural features of the house and makes it stand out.
On the contrary, some homeowners prefer a more cohesive and harmonious look. In turn, they might select similar house and roof colors or ones within the same color family. In this case, the house color can be slightly lighter, darker, or even the same as the roof color. This creates a unified appearance and a sense of balance.
What Color Should I Paint My House If My Roof Is Brown?
There are many exterior wall colors that look good with a brown roof! Try browsing the internet for examples and inspiration. In the meantime, some popular choices include:
White: A classic and timeless color that will always look good.
Cream: A soft and elegant color that is perfect for a traditional home.
Gray: A sophisticated and modern color that will complement any style of home.
Blue: A calming and refreshing color that is perfect for a beach house or cottage.
Green: A natural and earthy color that is perfect for a country home or cabin.
Yellow: A cheerful and vibrant color that will add personality to any home.
Ultimately, the best color to paint your house is one that you love. Take some time to test areas of the outside walls with sample paints. Step back and see what colors speak to you. Also, don't be afraid to experiment! You may be surprised at how well a certain color looks with your brown roof.
What Colors Go Well With a Terracotta Roof?
Terracotta roofs are a beautiful and timeless choice for any home. Also, they add a touch of warmth and character to any landscape design. However, they also offer a very bold and distinct appearance. In turn, you might ask, what colors go well with terracotta roofs?
White is a classic and versatile color that pairs well with just about anything. It brightens up a dark or gloomy home exterior, allowing a terracotta roof to really pop.
Gray is another neutral color that works well with terracotta. Also, it helps create a more modern or contemporary look.
Blue is calming and refreshing and offsets warm terracotta roofs. It can also help to create a more coastal or beachy feel.
For a natural and earthy color, choose green. This shade offers a stunning, spa-like look for any home.
Ultimately, the best color to pair with a terracotta roof is the one that you love. There are no hard and fast rules, so experiment until you find a combination that you like.
The Kansas City House Painters is happy to help explain what color to paint a house with a red roof. Hopefully we've given you lots of good ideas! Also, feel free to contact our Kansas City painting contractors when you're ready for expert services. We'll provide a FREE quote and explain all your options for new paint on your property.